" Asbury Park Holiday Show "

12-6-01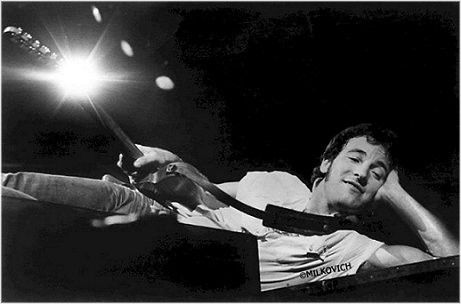 "My tires were slashed and I almost crashed
but the Lord had mercy
My machine she's a dud, I'm stuck in the mud
Somewhere in the swamps of Jersey
Hold on tight, stay up all night
`cause Rosie I'm comin' on strong
By the time we meet the morning light
I will hold you in my arms"
Our sincere thanks to estjukes@aol.com for posting his review in Candysroom. He attended both the 12-3 show and the 12-6 show and was obviously impressed by his latest visits to Asbury Park!

Subject: 12/6 Holiday Show
From: estjukes@aol.com (ESTJUKES)
Date: 12/07/2001 2:32 AM

Tonight's show was much better than Monday's show (didn't go to Tuesday's show so I can't compare), but tonight (12/6) had a much higher energy level than Monday night. Bruce and the band seemed much looser tonight and played with more confidence. The show also went to the 2:40-2:45 mark instead of the 2:30 mark it was at for the first two shows.

The show opened with two numbers --- He's Got The Whole World in His Hands, and Everything's Going to Be Allright -- performed by a gospel choir that Bruce called "Sister Brown and the Southern Community Choir of Asbury Park." .... as someone posted earlier .. there's nothing like watching a gospel choir do it's thing. Bruce was playing some backing guitar and moving his head, really getting into it. Jimmy Vivino was on organ for these numbers and Max was sitting at the drum set.

That went into the countrified Jingle Bell Rock which was fun and with Soozie's fiddling and then the horns kicking in at the end.

The Max Weinberg 7 finally did an instrumental jam where I recognized part of it... a good chunk of it soudned Louie Prima's "Jump Jive an' Wail".. followed by them doing a 50s sounding Christmas song with Jimmie Vivino on lead vocals that I thought was called Christmas Day and the setlist confirmed that. Bruce joined in midway through for some wicked guitar solos and rave-up vocals.

His guitar playing was so wild on Christmas Day that before the next song, he commented "I played myself out of tune" and then after tinkering with it for a minute said "That's close" and went into Thundercrack. It was so much looser and wilder than Monday's version. Bruce was just smiles and having a blast playing.

Then he introduced the next song by dedicating it to Dominic for revitalizing the Pony, and spoke about how hard the bar business is, and out of the darkness you hear Clarence say "you bet it is". Bruce laughs and says "the problem with Big Man's West was that you had the wrong name, it should have been Big Man's Broke" and went into a wild Seaside Bar Song and said that they had forgotten about that one for 25 years.

Then Bruce went said "It's now my pleasure to be backup musician for one lucky young lady. She's been working on her album longer than it took me to do The River. At which point someone in the crowd shouted out "What about your album" Bruce laughed and said "My album?" (pause) "We're working on it". Patti smiled at that point and shook her head. Then Bruce said "This is Love, Stand Up" and Patti played it... it sounded better than Monday night, but I still can't say that I like it alot.

Before playing her second song, Patti said "Bruce said I could sing two songs as long as they were both love songs about him" and proceeded to play Spanish Dancer.

After Patti finished Bruce brought out Garland Jeffries and Garland and Bruce did essentially the same "met my wife at the Stone Pony 21 years ago" schtick they've done the last two shows. Garland gave a brief intro talking about how his hometown of Coney Island is a lot like Asbury and then played Welcome to the World. He followed that up with New York Skyline, but during the musical intro, where Bruce is playing some quiet guitar, some jerk went "bruuuuuuce". So at the conclusion of the song Bruce said "Don't ever say my name in the middle of someone else's song. It makes me lose my concentration and my good mood. So would you god damn please shut the fuck up. If you keep it up I'll have to come out and kick your asses." (I might have missed a comment that included other profanities). The "Alliance Singers" were with Garland for the performance.

Then conlcluded by saying "if I don't do it (kick your ass) this man will, Southside, come out" .. Southside came out and they played a great This Time It's For Real and a killer Talk To Me.. I can't imagine it sounding better than it did tonight. Then they played a song for Jake -- It's Been a Long Time.

Then Bruce said "Nils, thanks my pal for saving me many years ago with the E Street Band. He's been with us 15 years and he's still the new guy" .. Nils came out and made the expected comment about meeting his wife 21 years ago at the Pony... and went into Shine Silently. Electrifying version. He was really into it as was the crowd.

Then Nils talked about a song he heard 11 years ago that was really a healing song for where he was in his life at the time and that it's played way too little so he would play it tonight..and went into a slightly electrified version of If I Should Fall Behind. He traded verses with Bruce for the first three or four verses and for the final verse and chorus they sang it together.

Then the remaining E Streeters came out (minus Steve and Roy who are MIA... Steve needs to be taught which boss is more important ) and they played Merry Christmas Baby.. and Bruce was really into it... all over the stage. At one point he grabbed the Santa hat from a child in the audience (the child of someone I know from AOL and another Bruce group) and danced around the stage with it before trying to put it on Garry and then returning it to Zoe (the child). Then he grabbed a baseball cap from someone on the opposite end of the stage (Clarence's side) and danced around with that on (couldn't tell what it said, but it might have been NYFD).

Next up Bruce played conductor with a pencil for the intro to E Street Shuffle before tossing it aside and launching into a wild and loose version of E Street Shuffle, featuring the Move On Up portion that I read was omitted on Tuesday.

That was followed by an insane version of Kitty's Back.. the horns and Bruce and the rest of the band (as well as the crowd) were really into it and then Christmas (Baby Please Come Home) closed out the main set.

To open the encores Bruce spoke about the charities and stores in Asbury at length, thanked the Asbury Police and Fire Departments as well as other people in the town government for enabling him to do the shows and then played a powerful version of My City of Ruins, complete with choir, piano, horns and band as it's been for this stand.

Then Bruce said "it's time to turn things over to the MVP of Asbury Park who will give the other half of the prayer for our city" and Bobby Bandiera played a stunning acoustic version of "Here Comes the Sun"

Then it was time for Bruce's "big ass kicker" to come out and Southside and Bruce did a wild and loose version of I Don't Want to Go Home after which Bruce said "the original title was I Can't Find My Way Home" but Steve changed it. As he was leaving the stage Southside was gave Patti and Soozie a quick hug and a peck on the cheek but he gave Lisa Lowell a huge hug with a huge dip.

After that it was time for one "Only in Asbury Park" and Bruce launched into Rosalita. Southside started off dancing on the side of the stage, really into it, and then started clowning around with Patti, Soozie and Lisa, sharing a mike with Lisa for the "Rosalita jump a little higher" choruses;playing tambourine; dancing with Lisa in a way that would make the casual observer think he was hitting on her; gathering up Patti, Soozie and Lisa and joining shoulders and arms with them doing some rockettes-style kicks; Bruce saw Southside having a blast during this and just smiled and almost started laughing.

Then for the finale of Santa Claus is Coming to Town, it was his mom, his aunts, and other relatives (I'm assuming relatives) on stage in Santa's elf/Santa costumes tossing out candy canes while the alliance singers choir, southside, Joe D'Urso and everyone joined in for backing vocals on the choruses.

I ran into Ed Manion (sax player) after the show and had the following quick conversation with him:
Me: "Ed, great show tonight"
Ed: "Thanks"
Me: "Is there anything that's been rehersed that hasn't been played yet?"
Ed: (pauses for a second) "Yes"
Me: "Can you tell me what those songs are?"
Ed: (pauses again) "Well, there's still some surprises left"

Also there were a couple of changes in what was played vs. the typed setilst on the stage:
-- In the post Thundercrack spot Bruce played Seaside Bar Song... on the setlist E Street Shuffle was listed in that spot
-- In the pre-Kitty's back spot Bruce played E Street Shuffle .. the setlist had So Young and In Love with Seaside Bar Song as an alternate
-- Southside's second song was Talk to Me... the setlist had This Time Baby's Gone for Good with Talk to Me as an alternate.

Joe

2001 Asbury Holiday Shows









E-mail Me!!
Since 12-8-2001