" His Kind of Heroes "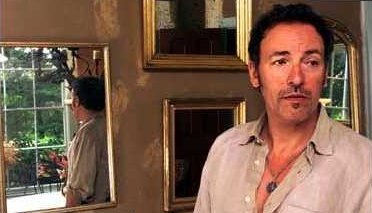 Bruce Springsteen:
His Kind of Heroes, His Kind of Songs
By JON PARELES
New York Times
July 14, 2002

A few days after Sept. 11, Bruce Springsteen was pulling out of a beach parking lot in the Jersey Shore town of Sea Bright when a fan rode by. The man rolled down his windo w, shouted, "We need you!" and drove on. It was the kind of moment, Mr. Springsteen said, that made his career worthwhile. "That's part of my job," he said. "It's an honor to find that place in the audience's life."

"The Rising" (Columbia), Mr. Springsteen's first album of new songs with the E Street Band since 1987, is due for release on July 30. It continues the reunion with the E Street Band that began with a few songs in 1995. Yet it barely looks back. By changing producers for essentially the first time since 1975, Mr. Springsteen has recast the sound of his music. For him, at 52, the album represents a rediscovery of the rock voice that he feared he had lost.

Most pop stars seemed irrelevant immediately after Sept. 11. Mr. Springsteen, who has spent most of his career singing about American dreams and disappointments, did not. With the red-white-and-blue iconography of "Born in the U.S.A." (which was anything but a nativist anthem) and in the accumulated narratives and sounds of his songs, he had made himself rock's all-American good guy, loyal but never complacent about his country. He had become a symbol of blue-collar pride, sympathy for the underdog and rock with a clear conscience.

His job, he decided a quarter-century ago, was not to embody some rock-star fantasy but to recognize the dignity of ordinary work. "I felt that I saw nobility in people," he said in a rare interview at his farmhouse home. "Not the kind you read in the story books, but the kind where people go in to work every day, they come home every day and dinner's on the table every day. There's people doing this in little ways every day all the time. These are the people that I want to write about. This is what I think is important. That's what moves me. That's what makes me want to sing my song."

"After the 11th," he said, "I think one of the things people were shocked at was that that was alive in some fashion. I think that we live in a particular pop culture moment, that there's a theater of humiliation on TV and on the radio, a reflection of self-loathing. I don't think anyone could imagine these sacrifices."

The office workers, firefighters, police and air travelers who died on Sept. 11 were the stuff of Springsteen songs: people who became heroes by just doing their jobs. He sings about them, and their survivors, on "The Rising," a song cycle about duty, love, death, mourning and resurrection.

"The Rising" provides comfort without flinching from sadness and bitter fury. In a way the album brings together the topics that have occupied Mr. Springsteen for two decades: work and love. The 15 songs are filled with characters who have lost their closest companions. "I want a kiss from your lips/ I want an eye for an eye," Mr. Springsteen sings in "Empty Sky." Grief wrestles with perseverance; come-ons arrive with intimations of mortality. In the album's title song, "The Rising," one man's afterlife is an endless longing for the physical touch of those left behind, and the music climbs toward jubilation as an act of will. The repercussions of Sept. 11 permeate the songs, but there is no jingoism or self-righteousness, just individual stories from all sides; the narrator who opens one song, "Paradise," is a suicide bomber of unspecified nationality.

Despite their somber subjects, the songs still find the possibility of pleasure and a recurring hope that there's a way to rise above suffering. The music maintains the E Street Band's reassuring solidity, built on the drummer Max Weinberg's steadfast march beats, Garry Tallent's bass lines and the heft of three guitars and two keyboards, along with Clarence Clemons's soul-band saxophone. Mr. Springsteen often follows a songwriting strategy that dates back to songs like "Badlands," with verses full of travail and choruses that ring with optimism. "The verses are the blues, the chorus is the gospel," he said in the interview.

"You have to come to grips with the real horrors that are out there," Mr. Springsteen continued. "And then all people have is hope. That's what brings the next day and whatever that day may bring. You can't be uncritical, but just a hope grounded in the real world of living, friendship, work, family, Saturday night. And that's where it resides. That's where I always found faith and spirit. I found them down in those things, not some place intangible or some place abstract. And I've really tried to write about that basic idea my whole life."

Mr. Springsteen lives with his wife (and E Street Band backup singer), Patti Scialfa, and their three children in a 19th-century farmhouse in Monmouth County. It's surrounded by former corn and soybean fields that will, in the next few growing seasons, be converted to organic crops; a barn holds a demo studio. Mr. Springsteen's wood-paneled living room, where he has also done some recording, has a large fireplace with antique clocks on the mantelpiece and a comfortable assortment of Arts and Crafts furniture and stuffed chairs. Wearing a pale shirt, corduroy pants, black boots and a St. Christopher medal — the former patron saint of travelers no longer recognized by the Roman Catholic Church, disenfranchised like a Springsteen character — Mr. Springsteen sipped a beer and spoke proudly about "The Rising."

"I've been at my best when I'm connected to what's going on in the world outside," he said. "I have a sense of what my service to my audience is going to be. It's the true nature of work in the sense that you're filling a place. And that place comes with its blessings and its responsibilities."

By Sept. 21, when musicians and actors shared a hushed all-network telethon for the September 11th Fund, Mr. Springsteen had written a song called "Into the Fire" for the program; it's about someone who disappeared "upstairs into the fire," and it turns from memories to a benediction: "May your strength give us strength/ May your hope give us hope." Mr. Springsteen didn't consider it finished enough for prime time; instead, he sang "My City of Ruins," a song written before Sept. 11 about a devastated city and the determination to "rise up." Within a week, he had also written "You're Missing," an elegy rooted in the everyday, and "The Fuse," about loss and desire. All four songs appear on "The Rising."

"Into the Fire" and "You're Missing" became what Mr. Springsteen called "genesis songs": they triggered others. "I'd come up with one and that would lead to another and lead to another and lead to another. Then you start to tell a story. And finally the story begins saying, `I'd like this emotional ground covered or that emotional ground covered.' What's the rest of the story?"

"You're mining, soul mining," Mr. Springsteen added. "And sometimes you're just not around the rich veins, and a long time can go by. And then all of a sudden, boom! You hit one."

On a table sat a blue spiral-bound Mead notebook, with a handwritten label reading "Work Book" and a sticker with a picture of an eagle from Exile Cycles, a custom motorcycle builder in Sun Valley, Calif. It held, in its handwritten pages, the making of "The Rising," starting with a page of potential song titles, including keepers like "Into the Fire" and nonstarters like "Hard Drive." Then came draft after draft of lyrics, a few dead-ended songs and, eventually, finished lyrics with notes on arranging and mixing. The last pages are sequences of songs for the finished album. Mr. Springsteen has stacks of these books; after all, he has been making albums for Columbia for 30 years.

He made his reputation as a bar-band trouper inventing an irresistible persona: the scruffy, romantic Jersey guy who loved girls, cars and the possibility of escape. After he became a national figure with "Born to Run" in 1975, he turned to bleak parables and songs about other people: the runaway husband in "Hungry Heart," the hard-luck prisoner in "Johnny 99," the shattered Vietnam veteran in "Born in the U.S.A." and more recently the AIDS patient in "Streets of Philadelphia."

"I felt like maybe I had played out my story kind of early on," Mr. Springsteen said. "There wasn't any place to go. The classic, the sort of iconic rock story was those early records."

So he chose to write about the unglamorous workaday world. "I thought that once again I could be of value and have something that would be worth saying and give people a good time," he said. "I've always felt, I just write well about these things. Those elements are where the blood and the grit of real life mixes with people's spiritual aspirations and their search for just, decent lives."

His 1982 album "Nebraska," originally intended as four-track demo recordings on cassettes, told desolate stories in raw, low-fi form. Then he hit his mass-market peak with "Born in the U.S.A." in 1984, an album of chiming, gleaming songs about the people left behind by Reaganomics. His songs on albums like "Tunnel of Love" turned inward, pondering love gone wrong. His first marriage, to the actress Julianne Phillips fell apart; he also decided to part ways with the E Street Band.

After marrying Ms. Scialfa in 1991, the year after his son Evan James was born, he took up storytelling again, but with a new austerity. For "The Ghost of Tom Joad" in 1995 he set tales of workers and immigrants to quiet, folky guitar. He toured alone, playing an acoustic guitar. And he wondered if he would ever rock again.

"I was having a hard time locating my rock voice," he recalled. "I knew I didn't want it to be what it was, but I didn't know . . . " He trailed off. "I'd made some records over the past years, I made one in '94 that I didn't release. Then I made a series of demos, kind of in search of that voice. And I was having a hard time finding it. And there was a point I said: `Well, gee, maybe I just don't do that now. Maybe that's something that I did.' "

Getting back together with the E Street Band, first to record three songs for his 1995 "Greatest Hits" collection and then for a world tour that began in 1999, changed his mind. He realized he missed arena-scale rock. "Outside of the ego gratification of thousands chanting your name, and screaming for you," he said with a smile, "it's also something where you go, `Man, I spent a long time learning how to do this really well, and am I just going to say that's not for me? I don't think so.' And that's what people ask for. They want you to come out and do it for me one more time. While you could say on one hand that's kind of an unreasonable question, on the other hand, is it really? That's kind of why you've set yourself up.

"And then on the tour I wrote a couple of songs, `Land of Hope and Dreams' and `American Skin,' " he said. "And these were as good as any songs like this that I've ever written. It was like, there's that voice I was looking for."

While "The Rising" reconvenes the E Street Band, it also shakes up the way Mr. Springsteen has made albums since the early 1970's, when he began producing them with his manager, Jon Landau, and then his engineer, Chuck Plotkin, and the E Street Band's guitarist Steve Van Zandt. He made "The Rising" with Brendan O'Brien, the Atlanta-based producer, who has worked with Pearl Jam, Korn and Rage Against the Machine.

"My own abilities, I felt like I had reached my limits with them," Mr. Springsteen said. "The basic sound of things that you hear on the radio changes at least every five to 10 years. Brendan had all my references so I could refer back to something from 1966 or 1980. And then he had the following 10 and 20 years."

While many of the songs use Mr. Springsteen's favorite opening chords — the major-to-relative minor change that pervades doo-wop — Mr. O'Brien subtly reconfigured the E Street Band. He brought guitars forward instead of keyboards, found ways for Mr. Springsteen to sing without shouting and slipped a country fiddle or a gospel choir into some arrangements.

The songs reach back to rural blues ("Into the Fire") and roadhouse rock ("Further on up the Road"), or they might use tape-looped drums alongside pealing, U2-style guitar ("The Fuse"). In "Worlds Apart," a soldier in what could be Afghanistan falls in love with a local woman; the song mixes the E Street Band with a Pakistani group that sings qawwali, mystical Islamic songs. When the E Street Band sounds most like its old self, in "Mary's Place," it's for a song about returning to a familiar haunt, with lyrics that also hint at Mr. Springsteen's delight in his old band: "Familiar faces all around me," he sings.

"They had protected me when it got to a place where everything was kind of hot and there was a lot of light on you," he said. "I carried with me my own sense of place and my own sense of home in those guys. And I think vice versa. This is what my band is built for. We're built better for, I think, when the cards are down. We're most useful in some fashion. So I think that it's just the old story: It's nice to have a job to do."

New York Times Audio Interview






Bruce Springsteen & E Street Band
The Rising!!
Tour Info!!!


Order "The Rising"!!
Order the Limited Edition Version
Order the Single
Read about The Rising
The Rising Lyrics
Listen to the Rising
The Rising 2002-2003 Tour
His Kind of Heroes
Reborn in the USA
Rolling Stone
Ghost of Bruce Springsteen




Since 7-14-2002


Powered by counter.bloke.com



E-mail Me!!