" 57 Channels "
Most Recent ( September-October 2002 ) Link Updates




"....Baby, once I thought I knew
Everything I needed to know about you...."





*****************************************



Bruce Springsteen & E Street Band
The Rising!!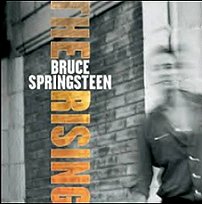 Order "The Rising"!!
Order the Limited Edition Version
Order the Single
Read about The Rising
The Rising 2002-2003 Tour
His Kind of Heroes
Reborn in the USA
Rolling Stone
Ghost of Bruce Springsteen
********************************************


Springsteen Biography!
1949 to 2002!

*****************************************


" Report Link Problems Here! "

" Return to Main Link Page


The following links are the most recent links posted on this site, both updated and brand new! They are listed by the date posted...They have also been listed on the individual link pages!!
Added in October 2002
Added on October 30th, 2002
2003 European Tour Dates
Added on October 22nd, 2002
Paris Show Pics 10-14-02

Added on October 14th, 2002

Thunder Road Video
From Leonard Zakim Bridge Dedication in Boston


Added on October 13th, 2002
In Search of a 9-11 Anthem
Bruce Mp3's
Added on October 12th, 2002
Bruce Concert Live From Barcelona!!
Added on October 9th, 2002
Springsteen Pics From Buffalo Show
In Search of a 9-11 Anthem
The Rising
Springsteen Rocks Buffalo
Despite Memory Lapse
Boss is Unforgettable
Springsteen Pulls Out All the Stops for Philly Show
Added on October 7th, 2002
From Concert Memories:
A Sense of Springsteen
Pics From Philly Show
Bruce History in Philly
Added on October 5th, 2002
Springsteen Rises to the Challenge
The Boss is Back
Five For Thought
Meet the Old Boss
Springsteen Pics From Boston Show
Rising to the Occasion
Joe D'Urso at the Turning Point
The Politics of Springsteen:
From Ruins to Rising

Added on October 4th, 2002

Springsteen Photo
Bridge Dedication Boston, Mass

The Boss Rules

Springsteen Dedicates Bridge

Springsteen Discussions
From His Official Web Page



Added on October 1st, 2002

100 Photos From Rolling Stone

Rolling Stone Review
Greetings From Asbury Park, New Jersey

Rolling Stone Review
The Wild, the Innocent and the E Street Shuffle

Rolling Stone Review
Born to Run
Springsteen's Thousand and One American Nights

A Rock Star is Born
Rolling Stone Review-Bottom Line 1975


Added in September 2002
Added on September 30th, 2002
Springsteen: Song by Song
For One Magic Moment, Something Clicked
Springsteen: Poet With Pretenses
Springsteen Photos and More

Added on September 29th, 2002

It's Sign Up a Genius Month
Rolling Stone Magazine

Bruce Springsteen's Lone Star Promenade
Rolling Stone Magazine

New Dylan From Jersey?
It Might as Well be Springsteen
Rolling Stone Magazine

Conscience of a Country Maverick
Steve Earle on Bruce

The Rising Tour Page
Setlists and News


Since 9-29-2002
Powered by counter.bloke.com



E-mail Me!!